REPLACEMENT TAPE & DECALS
The colored stripes and graphics on your RV are most likely made of adhesive backed vinyl.
This material is available in many colors & sizes. It generally has a 5 to 10 year expected life.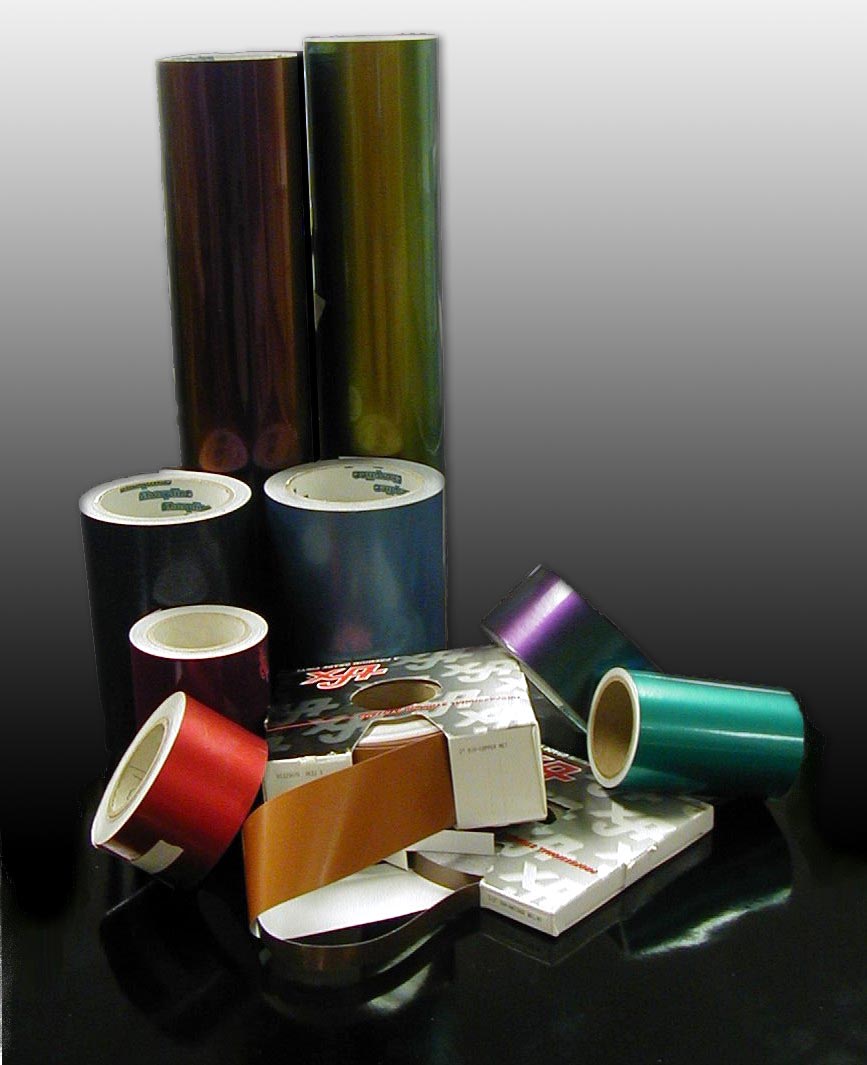 HOW TO PURCHASE REPLACEMENT TAPE

Most Economical
Tape comes in standard widths of 1/4", 1/2", 1", 2", 4"and 6".
Any other size is custom made from these sizes.
Tape comes in standard lengths of: 150' for sizes 1/4" through 1" widths.
Widths 2" through 6" are available in 50' lengths. .
The least expensive way to restripe is to order standard size tape.
The most convenient way to restripe is to combine standard and custom sizes.

Most Convenient
Have us build a custom restripe kit to replace your old configuration.
For example, you may have 3 existing stripes 1/4" wide
with 1/8" gaps that you want to replace, as in the example below.

You do not need to replace your old stripes with the same color
and size that you are removing.
When you remove the old stripes, there will most likely be a "shadow" or fade left behind.

Choose your colors relative to your awnings and interior carpet and upholstery colors.
Choose your replacement size relative to the fade lines left under the old stripes.
See the first photo on our RV Restripe Central web page (Dutchmen motor home) as an example of simplifying, and modernizing replacement stripes to cover old fades.
Order your tape with this in mind rather than simply replacing the old configuration. You will save time, work and will most likely achieve more professional looking results.

HOW TO ORDER REPLACEMENT TAPE
We are an authorized reseller of vinyl stripes from all three of the major manufacturers; 3M, Universal and Sharpline. We prefer Sharpline for RV applications.
You will need a stripe guide to choose shades and exact colors and to accurately communicate that information to us. To get a stripe guide, we need a $5. deposit. If you purchase stripes from us within 30 days, you will be reimbursed the $5. in the form of a credit toward your purchase. You need not return the color guide. The fastest way to get a color guide is to call us toll free at 480-984-7939 with a credit card number and your guide with over 100 color chips to choose from will leave our shop within 24 hours.
An order form and work sheet will accompany the color guide. You can mail, fax or email the order back to us.
Standard prices are as follows:
Standard
| | | |
| --- | --- | --- |
| Width | Length | Price |
| 1/4" | 150' | $18 |
| 1/2" | 150' | $34 |
| 1" | 150' | $65 |
| 2" | 50' | $47 |
| 4" | 50' | $90 |
| 6" | 50' | $139 |
Custom cut prices are as follows:
Use standard prices in the table above plus a cutting charge. Cutting charge is $15. per color. For example, if a width of 1 1/2" is required, you would order 2" tape, cut to 1 1/2". Price will be $47. plus $15. cutting fee for a total of $62. You will receive 50' of 1 1/2" tape plus 50' of 1/2" "drop" -- possibly useful somewhere else on your job.
Feel free to call or email us to discuss any questions or concerns that you have.