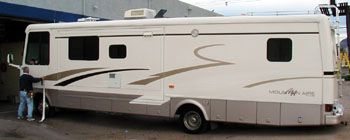 The owner of this Mtn. Aire noticed extensive aging on
the entry door side of his coach. After a consultation,
it was determined that this particular side of the
motorhome had, over its lifetime, consistent sun exposure
(like most RVs experience) which contributed to
the uneven aging. The client decided for a complete
removal/replacement (restripe),
featuring a factory graphic appearance as the final look.